Teeth Whitening in Fairfax, VA
Looking for a straightforward and quick way to improve your smile? Teeth whitening may be your answer. At Progressive Dental Care, Dr. Alka Mahajan, DMD, can take your smile to a new level with convenient GLO™ professional teeth whitening. In just a couple of hours, you can have whiter teeth thanks to the skilled dental team at our office in Fairfax, Virginia. If you're curious about teeth whitening and have more questions after looking at this page, please call or schedule a consultation online!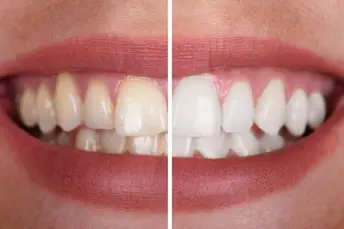 What makes my teeth yellow?
Many factors contribute to teeth yellowing. Certain medications, age, and the things you drink and eat can all contribute. Surface stains on the enamel of your teeth from drinks like tea, coffee, and red wine, can make your teeth appear yellowish. Big contributors include tobacco and smoking, too.
Over time, these surface stains go beneath the enamel to the dentin of your tooth, making the stain even harder to remove.
Is whitening your teeth safe?
Yes. Teeth whitening is not harmful if you comply with product directions and guidelines. The professionals at Progressive Dental Care offer GLO™ Whitening, or Guided Light Optic technology, treatments for safe, reliable results. You may prefer to get your teeth whitened in only one appointment if you have a busy schedule, or steadily over time with a take-home teeth whitening kit.
In either instance, the GLO whitening solution is not harmful to put in your mouth and on your teeth. You may, however, experience temporary tooth and gum sensitivity due to the bleaching agents.
What is the GLO in-office procedure like?
Your teeth could be up to eight shades whiter with just one simple GLO in-office teeth-whitening treatment.* At your appointment, an experienced member of the Progressive Dental Care team fits upper and lower dental trays into your mouth. These trays will contain the advanced whitening gel.
Your dental professional will cover your gums and lips to protect them from the solution. They put the bleaching solution in the trays and shine a special bright light on your teeth. In a single visit, you sit back and relax for three 15-minute blocks while the light and bleach interact to whiten your teeth.
Between treatments, you wait comfortably, and after the last bleaching treatment, your dental expert applies a gel to your teeth to minimize any post-treatment sensitivity you experience. Then it's finished. In about two hours, you have whiter teeth and a dazzling smile.
The Progressive Dental Care team can also provide take-home teeth-whitening kits for a less immediate approach to whitening teeth over a couple of weeks.
To learn more about our Teeth Whitening treatment options, call Progressive Dental Care in Fairfax, VA today at (571) 282-4226.
Let's work together to revive your smile!
*Individual results may vary.